Lotus Self-Defense Clinic

Time: See syllabus for current time info
Location: Suite 200, second floor
Student Recreation Center
See the latest syllabus


Instructor: Dr. Michael Weeks
Computer Science Department
Office: 34 Peachtree Street, room 1444 (14th floor)
Office hours: TBA
Phone: (678) 952-8196

Web page: http://www.cs.gsu.edu/~cscmcw
Another good web page about Lotus: http://www.lotusmartialarts.com
Brief Description
Lotus Self Defense is a martial arts style from Thailand. We teach basic moves: punches, kicks, blocks, and rolls, with an emphasis on practical self-defense. Lotus is a combination of Thai kick-boxing, Aikido, Judo and Kenpo karate.
Course Objectives
This course is designed to give students experience in the Lotus Self Defense martial-arts system. Martial arts encourage practice, physical conditioning, and self-discipline, and students develop self-assurance. All of these qualities are important for success in life as well as in college.

About Lotus Self-Defense
The Lotus Self-Defense system was founded by Ajarn (Teacher) Precha Mahachanavong, officially sanctioned on October 2, 1969. It is a martial arts style developed in Ubon, Thailand. It combines elements of several martial arts: Aikido, Muay Thai Kick-Boxing, Kenpo Karate, and Judo. The idea is to borrow effective material from each style, and use what works. The result is a unique martial arts style, empowering practicioners to defend themselves if attacked regardless of the situation.
A typical Lotus class starts with stretching and warm-up exercises, then we practice kicks, punches, and blocks, next we practice falling to the mat, then practice hitting a target, followed by rolls. The rolls conclude with a brief form incorporating rolls, kicking and punching. After a few minutes' break, we return to practice kata, self-defense techniques, and cover any new material. The self-defense techniques are most interesting, and can be applied in real-life situations. Advanced techniques (though not part of the introductory clinic) include take-downs, flips, and throws.
More information about Lotus can be found at www.LotusMartialArts.com .



Frequently Asked Questions
What if I am late? Come in, bow, then join the class in the last row. If you are not warmed up when you arrive, then come in, bow, and stretch out on the side until you are ready.
What if I am need to leave early? It's nice to let me know when you will leave early. However, you can always stand tall, bow, and leave at any time. You don't need to explain.
What if I am sick? Your obligation to take care of yourself is more important than attendance. Also, it is a courtesy to your fellow students to stay home when you are sick.
What if I miss a class? The class material progresses as the semester does. But you can usually pick up where you left off. Students are always welcome back.
What if I want to take another class in the same semester? I do not recommend that you take more than one martial arts class in the same semester, unless they complement one another. As an example, though it is not a martial art, yoga is a good complement to a martial arts class. My opinion is that it is better to dedicate your time to the study of one style, and become proficient in it, rather than become somewhat proficient in two styles. Ultimately, the decision to take another class is yours.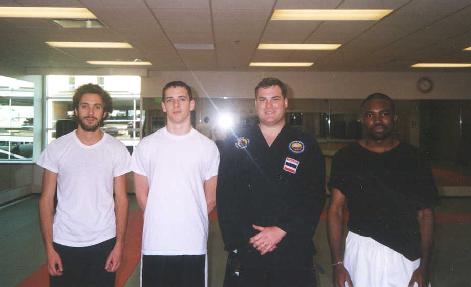 This is the class from Fall 2001
From left to right: William Bodner, Todd Smith, Ajarn Michael Weeks, Chibuzo Obi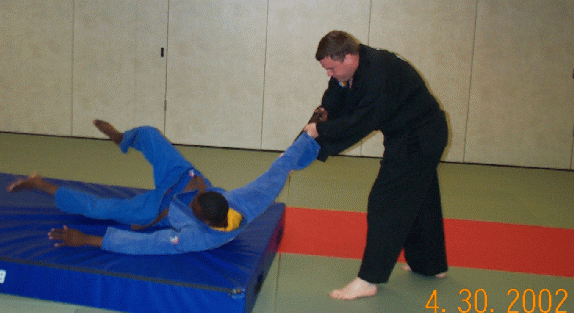 Technique #28, Spring 2002



last update: August 27, 2003